FlashingBoards
Marker Pen Set
Triangular Easel
Battery
Decorate board
Double-Sided Neon LED Board
LogoBox Flashing Board
LED Sign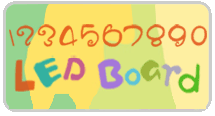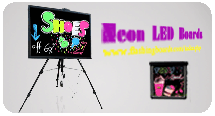 The LED Fluorescent Writing Board. The write choice to color your business!
From Vegas to Tokyo and around the world, the glowing brilliance of neon has been used for nearly a century to capture customers' attention and drive sales. However, until now it's also been cost-prohibitive for many, difficult to update—and even hazardous.
Enter the LED Fluorescent Writing Board, an eye-catching, safe, and cutting-edge way to advertise your unique business and entice prospects--all while keeping energy and maintenance costs down.
Whether day or night, indoors or outside, the LED Fluorescent Writing Board blazes in scintillating colors to draw your customers to whatever you choose: a business sign, a menu, new offers and specials. The choices are endless! The holidays are just around the corner, so make sure to act now and watch your SALES EXPLODE through the end of the year.


PERFECT FOR THE FOLLOWING BUSINESSES:
Coffee Shops
Butchers
Sandwich Shops
Ice Cream Parlors
Fast Food Outlets
Wine & Cocktail Bars
Pubs & Restaurants
Hotels
Hair & Beauty Salons
Bookmakers
Estate Agents
Travel Agents
Convenience Stores
Florists
Retail outlets
Boutiques
Kids' Lemonade Stands