FlashingBoards
Marker Pen Set
Triangular Easel
Battery
Decorate board
Double-Sided Neon LED Board
LogoBox Flashing Board
LED Sign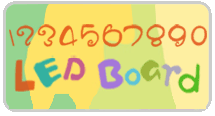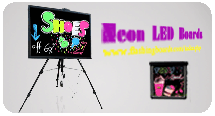 Q01. Where can the board be used?


It is most often used in restaurants, shopping malls, coffee shops, bars, night clubs, hotels, and many other public places.

These LED boards are ideal for advertising daily specials; drink specials, upcoming events, special offers, tour information, or promotions.


Q02. What advantages does it have?


- Brilliant, color-changing hand written message board
- Eye-catching menu with a glowing "neon" appearance
- 7 colors of LED lights / Various flashing modes
- Flash speeds are adjustable (slow, regular, fast)
- Easy to write on, heavy-duty, durable acrylic surface
- Lightweight but rigid framed board making it easy to carry
- Extremely low power consumption - only a few watts
- Eco-friendly, can be cleaned with a soft towel or tissue

Q03. What is the difference between BFAA and BFBA?


Model series BFAA

The board is framed in all four edges. There are three speeds (slow, regular, fast) and 12 flashing modes for you to choose. It can be hung or put on an easel, and powered by re-chargeable battery as alternative

Model series BFBA

The board is framed on one side while the other 3 edges are frameless, but instead, there are engraved lines to make it look more elegant and charm and draws better effect. There are 9 color-changing and color flashing functions.

Q04. What sizes are available?


BFAA is available in five sizes: 12" x 10", 23" x 18", 27" x 23" and 35" x 23"

BFBA is available in four sizes: 14" x 12", 17" x 17", 24" x 19", 32" x 24".

Any size can be manufactured according to the customer's needs, but the board size should be no bigger than 35" x 23".

Q05. If the size of the LED board can be customed? Is there a minimum quantity?


Yes, the size can be customed, the minimum quantity is 200 pieces for each size.