FlashingBoards
Marker Pen Set
Triangular Easel
Battery
Decorate board
Double-Sided Neon LED Board
LogoBox Flashing Board
LED Sign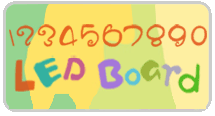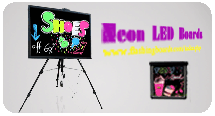 Instruction


Attentions
1. Places where the product can be hung (comes with two framing hooks):
Hard smooth surfaces – wood, metals, plastic, glass, tile and metallic coatings.

2. Places where the product should not be hung:
a) Soiled walls, plaster wall, wallpaper, artificial cloth, aqueous coating surfaces.
b) Moist surfaces.
c) Rough surfaces and /or places with peeling finishes on walls.

3. Use only a 12-volt DC electrical supply.

4. Do not connect the mini-controller to a computer or any other device not related

to this product.

5. Do not allow exposure to the sun for an extended period.

6. Do not allow exposure to water.

7. Do not use any chemical substance to clean the board.
8. Keep out of reach of children and pets.
9. Avoid contact with hard objects on writing area to prevent scratches.
10. Do not open the power adapter or controller box.

A unique product – a writing board equipped with color changing and flashing functions which create an effective eyeball-catching attraction that nobody will miss. It is specially intended for short-term announcements. Produced with an ultra rigid acrylic surface, it is easy to write-on and wipe-off and can be used over a long period. A wide range of application includes for example: special function in hotel and convention center, boarding direction on a cruise-liner etc. It is the most ideal tool to help increase sales of restaurants, bars and other retail shops with their 'special offer' advertised.


-- Unlike chalkboards or dry erase boards, messages and drawings are self-illuminated
on the LED writing board. There is no need for any additional external source of light.
--Displays attractively and marvelously either during the day or night.
--Unlike most billboards / neon signs which can only be used for one message, the Flashing LED

board is reusable. Utilize your creativity to write or draw any message or picture to achieve your
advertising goals. Simply clean it off with a soft clean cloth or tissue paper.
--Ultra thin and light weight makes it easy to carry, easy to hang on a wall or window

or position it on a triangular easel - anyway you want it.
--Over 20,000 luminous hours of continuous use.
--Energy efficient and environmental friendly make it a perfect and economic tool for advertising.
--Display it in a storefront window display, lobbies or host stands.
--Great for use in places such as restaurants, bars, hotels, stores, stations,

supermarkets, parking lots, companies, schools, churches, etc.
--A head turning economical marketing tool that will help your business stand out from the rest!