FlashingBoards
Marker Pen Set
Triangular Easel
Battery
Decorate board
Double-Sided Neon LED Board
LogoBox Flashing Board
LED Sign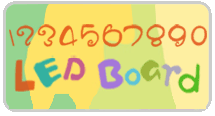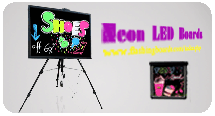 News
Introduction to flashing LED board
07/17/2013
We are the inhabitants of a technologically advanced and modern world. Every other day a new invention is presented in front of us and we use it to bring more ease and satisfaction in our lives. It can be said that we are living a much improved and privileged life than our ancestors. The modernization of approaches and concepts has forced mankind to use his capabilities in the right direction and as a result we get decent chances of witnessing some great wonders of technology. Devices that were considered miraculous some year back are now considered outdated as every other day we are being supplied by latest tools and devices.
The circumstances are ideal and now it is all dependent upon your mind that how you take aid from the privileges that modern technology provides to you. Especially, business owners are now being provided with many economical options using, which they can efficiently promote their offered products and services. One great and innovative product that has been designed to fulfill the advertising related demands of different companies is the flashing LED board. This is actually a kind of LED writing board that uses the Light Emitting Diodes and a black colored writing surface is provided as a background. The best part is that written messages can be very easily cleaned from this writing board using a tissue paper or a piece of cloth. It will not get scratched or damaged and every time you will erase the old message a new board will appear in front of you.
The black writing surface of the flashing LED boards is made up of acrylic that provides it with a better resistance against smudges because of which your written message is protected in a great manner and no scratches develop. Also, the acrylic base makes it to very easy to write on this type of LED writing board. Now the big question is that what makes the LED flashing board and ideal tool in relation to advertising related purposes? The answer is very simple it is provided with features, which create a brilliant flashing effect that can alter colors and patterns in such a manner that no one can manage to escape the beautiful assembly without noticing it.
In addition, the flashing LED writing board is very easy to maintain and it serves as an economical option. It can even run on a mobile rechargeable battery and a great quality is that it consumes very little energy means you can not only save money, but also enjoy the privileges that are provided by this environmental friendly product in a great manner.
The thing, which I like most about this product, is that your written message will be self-illuminated by the incorporated LEDs. The installed Light Emitting Diodes will work in a magnificent manner and the provided display will manage to capture the attention of people not only during night, but also days. This product is fully capable of representing your ideas and offerings in an attractive manner.
All in all it can be said that Flashing LED board is an ideal device and businesses can take huge benefits from it.

Back